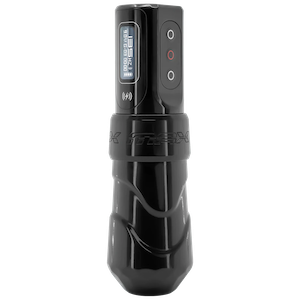 FK IRONS SPEKTRA FLUX MAX
£1,00300

£1,003.00

Save £52
Tax included.
Shipping
calculated at checkout.
---
---
The FK Irons Spektra Flux Max combines the best technologies and innovations of recent years in one tattoo machine. The wireless machine combines the Spektra Flux Max and the PowerBolt II.
The heart of the machine is the completely revamped PowerBolt II. The digital OLED display shows both the stitch frequency in Hz and the voltage in Volts. The battery charging status and the Bluetooth connection are also displayed. The built-in digital timer makes measuring the tattoo time on the side easy.
The display has various options, e.g. whether volts or Hz should be displayed larger or the working voltage should be adjusted in 0.1V or 0.5V steps. The operating voltage is now in the range of 4V to 12V, allowing even more artistic freedom.
The eGive can be selected in three levels (0-3) with the intuitive touchpad control (3 buttons) and automatically adjusts to the cartridge used. Thanks to Bluetooth 5.0, the FK Irons Flux Max can be connected to the FK Irons Killswitch - without the Darklab app.
The FK Irons Flux Max is available with fixed stroke lengths of 3.2mm, 4.0mm, and 4.5mm.
Product features:
Completely redesigned PowerBolt II

Dynamic power path management for reliable and consistent power levels

Digital OLED display

Intuitive operation via touchpad

USB port for charging

Compatible with the FK Irons Killswitch

Display with Hz and volts, battery status

Responsive eGive in three levels (0-3) with automatic adjustment depending on the cartridge

Built-in time tracker

No need to connect to the Darklab app to make adjustments

Switching of the display for left-handers

Operation with original PowerBolt and PowerBolt+ possible

Compatible with all common cartridges

It can be controlled by FK Irons Killswitch (sold separately) without the Darklab app

Made in the U.S.A.
Technical specifications:
Made from 6061 T6 aluminium

Up to 10 hours of battery life

Full charge in only 2 hours with the USB-C charging cord

Voltage range: 4-12 V (66–199 Hz)

Frequency setting in 0.1V steps (alternatively 0.5V steps)

Bluetooth 5.0

Newly designed ergonomic grip: 38 mm

Dimensions PowerBolt II: 58.5mm x 30.5mm

Weight PowerBolt II: 30g

Dimensions Flux Max (incl. PowerBolt II): 126mm x 58mm

Weight Flux Max (incl. PowerBolt II): 205g

Available with the following fixed stroke settings: 3.2, 4.0 and 4.5mm
---
We Also Recommend